Luxurious Slippers
Indulge in luxury & comfort with handcrafted slippers from Inabo. Matches every outfit, on every couch & every occasion.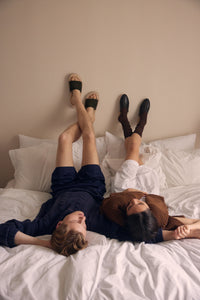 Featured collection
Men's Slippers
Our handcrafted men's house shoes redefine luxury loungewear by seamlessly transitioning between playful daywear and sophisticated evening attire.
See all

"They're great because they are soft and comfortable as all good slippers should be, while still retaining a sense of sophistication that is too often reserved for out-of-home style."

"Nothing wrong with socks, but really, who's going to say no to a handmade, supple, leather-soled slipper?"
"Stylish enough to match your painstakingly designed home, the art on you walls and your curated outfit, but also comfortable enough to wear when lounging on the couch."
Our slippers can seamlessly transition from cozy loungewear on quiet evenings at home, to elegant accessories complementing your favorite ensemble during gatherings with friends or family.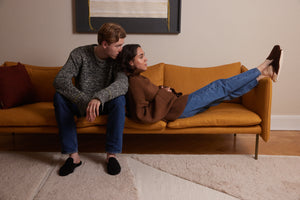 Featured collection
Women's Slippers
Whether you are lounging at home or hosting an intimate gathering, these slippers seamlessly fit into your lifestyle, adding a touch of elegance that is both playful and timeless.
Shop now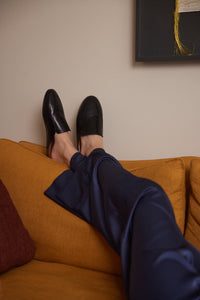 Distinguished Craftsmanship
Our leather sole slippers set us apart as purveyors of fine footwear. Their elegant yet robust construction ensures durability without compromising on style or comfort.
For women who value the finer things in life, we offer exquisite leather house shoes designed with equal attention to detail and superior material selection.
From quiet evenings at home to social gatherings around crackling fireplaces, our range offers unparalleled luxury for every occasion. At Inabo, we believe that beauty lies not only in aesthetics but also functionality; thus creating premium products that truly enhance everyday living experiences.
Instagram Gallery
People in Inabos